Cuchillo is the second episode of the first season in the remake version of S.W.A.T. which was aired from CBS on November 9, 2017.
Summary
Hondo and the SWAT team spread out across Los Angeles in pursuit of four escaped convicts, including a violent criminal Jessica helped bring to justice, before department rival Mumford and his team beat them to the collars. Also, Hondo's new role as team leader is called into question when Street displays a flagrant disregard for SWAT protocol
Cast
Main
Recurring
Louis Ferreira as William "Buck" Spivey
Guest
Lobo Sebastian as Cuchillo
Ramon Camacho as Ramon Reyes
Marc Fajardo as Danny Wattana
Gloria Garayua as Sofia
Natalie Valerin as Ariel
Patrick Davis as Eddie
Clinton Valencia as Caspar
A.J. Dunn as Travis Strand
Kareem Grimes as Little Red
Anthony Q. Williams as Jamal Goines
Lillianna Valenzuela as Cecilia
Marcos De Silvas as Angel
Anoush Nevart as Tourist Woman
Brittnee Garza as Cute Tourist
Kim Whalen as Beth
Gallery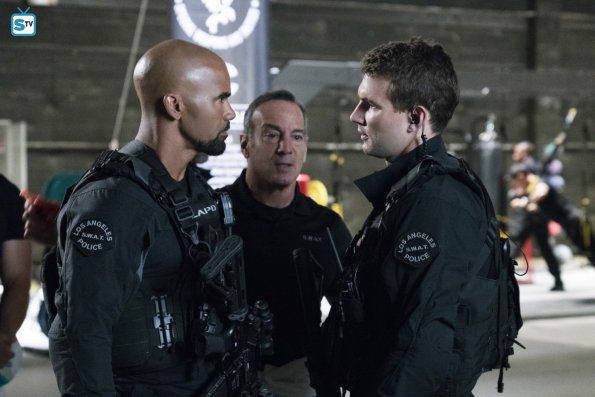 Trivia
When Jamal is released from the trunk. You can see that he is not handcuffed as he gets out of the trunk. The next shot he is charging towards the police wearing handcuffs.
As Hondo walks up to the driver of the tour bus, we see Tan and Chris getting out of the SUV's right hand side, Tan from the front seat, leaving Deacon and Luca positioned at the left hand side. When the camera shifts to a distance from behind the cars, Deacon, as well as Chris, is already on the grass field at the side of the road, while Luca, the designated driver, is stepping on to it and Tan is on the left side of the SUV.
When Hondo questions Beth (the tour bus guide), she tells him she is from Duluth, which is in Minnesota. When Street tells Christine that he has a date with Beth, he says that it's her last night in town "before she goes back to Ohio".
Quotes
Hondo: Luca, get that thing off of him.
Luca: What... why me?
Hondo: I don't mess with snakes. Go!
Little Red: Now that's cold!